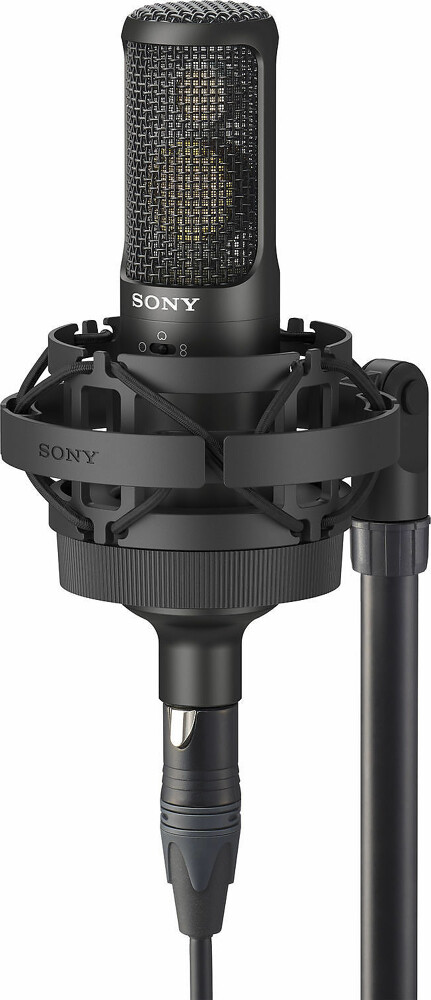 Sony C-100 Hi-Res Condenser Microphone
FROM
£25.00
EX VAT

(Please note all prices are exclusive of VAT + 20% will be added to the final price)
Request a Quote
Features
Capsule Type:

2 Way Microphone (Condenser + Back electret condenser)

Frequency Response:

20 Hz to 50 kHz

Directivity:

Uni-directional/Omni-directional/Bi-directional

Sensitivity:

(Uni-directional) -31 dB, (Omni-directional) -37 dB, (Bi-directional) -35 dB

Output Impedance:

90Ω±15%, Balanced

Dynamic Range:

(Uni-directional) 113 dB+, (Omni-directional) 114 dB+, (Bi-directional) 114 dB+

Signal-to-Noise Ratio:

(Uni-directional) 75 dB+, (Omni-directional) 70 dB+, (Bi-directional) 72 dB+

Inherent Noise:

(Uni-directional) 19 dB SPL, (Omni-directional) 24 dB SPL, (Bi-directional) 22 dB SPL

Maximum Input Sound Pressure Level:

(Uni-directional) 132 dB SPL, (Omni-directional) 138 dB SPL, (Bi-directional) 136 dB or SPL

Dimensions:

40dia.×175mm (1.57dia.×6.89in.)

Weight:

0.3 kg
Description
Taking the unique dual capsule design of the C-800G and offering it's distinctive open sound to a wider range of musicians and engineers. Used on numerous world class products this series of microphones helped make the Sony brand a common site in recording studios.

Excellent Sound Quality
Two-way diaphragm structure realizes both broad high range and resonant mid-low range and gives great vocal presence.

Wide Frequency Response
The C-100 microphone has a broad frequency response (20 Hz to 50kHz) and provides superb sound reproduction quality for High-Resolution Audio.

Noise Elimination Construction
Two-part metallic body structure succeeded from C-800G microphone prevents acoustic vibration resulting in low noise and clear sound.

Switchable Polar Patterns
The C-100 microphone features switchable uni-directional, omni-directional and Figure-8 polar patterns for various recording applications.

Low-Cut Filter
Low-Cut filter switch helps eliminate low-frequency noise and proximity effect.

Pad Switch
An -10dB pad switch on C-100 microphone provides added headroom and minimizes distortion caused by transient peaks.
Please note all prices are exclusive of VAT


+ 20% will be added to your order