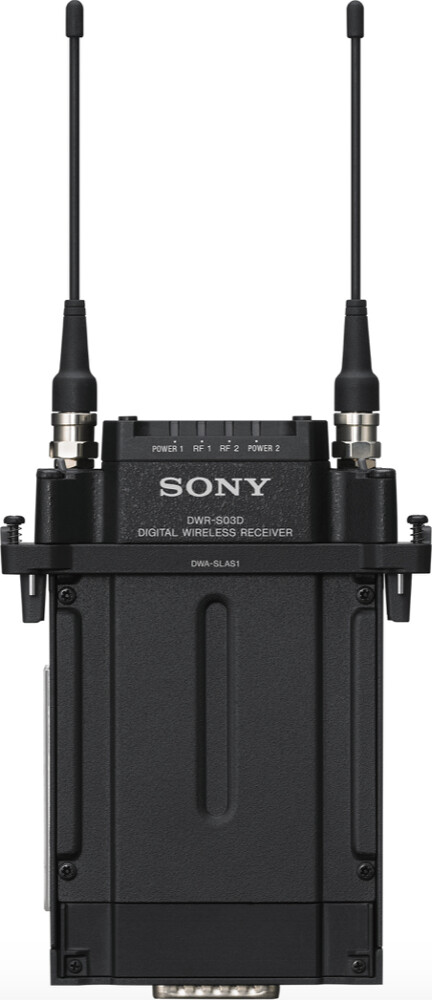 Sony DWR-S03D DWX Gen3 2-channel digital wireless slot-in receiver
FROM
£50.00
EX VAT

(Please note all prices are exclusive of VAT + 20% will be added to the final price)
Request a Quote
Features
Type of Receiver:

Slot-in (2 channels)

Transmission Method:

WiDIF-HP (x2)

Oscillator type:

Crystal-controlled PLL synthesizer

Reception Type:

True diversity method

RF input terminal:

SMA-R, 50 ohms

Sensitivity:

20 dBμ or less

Reference output level:

Analog: –40 dBu

Digital:

–36 dBFS/–20 dBFS (switchable)

Dynamic range:

106 dB or more (A-weighted)

Distortion (T.H.D):

MODE1, MODE2, MODE4: 0.03% or less MODE3: 0.3% or less

Audio delay:

Analog output in combination with the DWA-01D/F01D; MODE1: 2.1 msec, MODE2: 1.7 msec, MODE3: 3.0 msec, MODE4: 1.7 msec

ABS/EBU output in combination with the DWA-01D/F01D; MODE1:

1.9 msec, MODE2: 1.5 msec, MODE3: 2.8 msec, MODE4: 1.5 msec

Audio output connector:

D-sub 15 pin (male) (x1) with optional adaptor DWA-SLAS1

D-sub 25 pin (male) (x1) with optional adaptor DWA-SLAU1

Display:

OLED

Operating voltage:

DC 6 V to 18 V

Consumption current:

3.5 W or less with optional adaptor DWA-SLAS1

4.0 W or less with optional adaptor DWA-SLAU1

Operating Temperature:

0 °C to 50 °C (32 °F to 122 °F)

Storage Temperature:

–20 °C to +60 °C (–4 °F to +140 °F)

Wireless remote control:

2.4- GHz IEEE802.15.4 compliant

DimensionsApprox:

88 x 119 x 32 mm (W / H / D) (excluding antennas)
Description
This high performance 2-channel portable slot-in receiver is an ideal choice for ENG/EFP and location sound applications. The DWR-S03D is part of Sony's third generation DWX series digital wireless microphone system that combines advanced digital technologies, analogue microphone expertise, wireless audio transmission technologies and an enviable reputation for stability.
The receiver operates with a wide bandwidth up to 148 MHz (depending on region), increasing the probability of finding unoccupied frequencies in congested metropolitan areas.
Light and compact, the DWR-S03D can be mounted in the slot of Sony or other professional camcorders using the optional DWA-SLAS1 or DWA-SLAU1 interface adaptor.
Automatic channel scan and sync permits quick, easy frequency setting, and the high density 375 kHz interval channel plan enables simultaneous multi-channel operation.
Please note all prices are exclusive of VAT


+ 20% will be added to your order