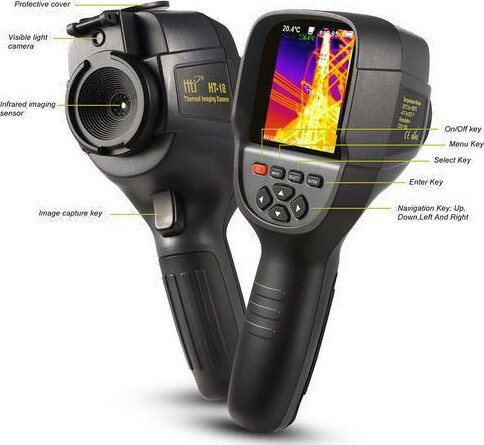 Hit HT-18 Thermal Imager (220×160)
FROM
£25.00
EX VAT

(Please note all prices are exclusive of VAT + 20% will be added to the final price)
Request a Quote
Description
HIGH RESOLUTION IMAGERY - Our 3.2" full color display screen shows thermal detection and visible light imagery in 220 x 160 resolution, allowing the user to see the full range of infrared imagery.

CHOOSE FROM 5 PALETTES - Choose the ideal color scale for your job - Rainbow,Iron Red, Cold Color, Black and White, or White and Black

4 GB SD CARD INCLUDED - No need to worry about buying an extra SD card or losing your recordings - we include 4 GB of storage so you can look back at the recordings on a laptop, TV, or other device.

IDEAL FOR PROFESSIONALS - This imaging camera is ideal for work in home inspection , fire-fighting, archaeology, traffic, farming, and electronic manufacturing fields,as well as any job that requires accurate temperature readings (accurate within 2.5°F).

LIGHTWEIGHT AND COMFORTABLE GRIP - This camera is only 0.83 pound, perfect for easy storage and taking anywhere - and, it comes with one travel pouch. Shaped in a"gun" style with an ergonomic handle, for comfort and ease at any angle.
Please note all prices are exclusive of VAT


+ 20% will be added to your order