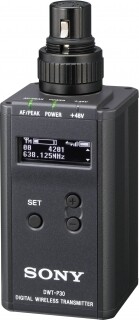 Sony DWT-P30 Plug on transmitter
FROM
£30.00
EX VAT

(Please note all prices are exclusive of VAT + 20% will be added to the final price)
Request a Quote
Features
Superb audio quality wireless transmission and reception

Up to 148 MHz bandwidth (depending on region) enables flexible operation with wide channel selection.

High density multi-channel operation

Low audio latency and high quality sound

Low noise head amplifier achieves -128dBu noise floor.

Flexible audio input control

Easy-to-read dot-matrix OLED display

The quick-response OLED

Weight:

0.4 kg
Description
Overview

This high performance wireless plug-on transmitter is an ideal choice for live sound applications including theatre and concerts, as well as studio based TV production and ENG/EFP.

The DWT-P30 is part of Sony's third generation DWX series digital wireless microphone system that combines advanced digital technologies, analogue microphone expertise, wireless audio transmission technologies and an enviable reputation for stability.

Sophisticated audio processing, encryption and RF transmission technologies assure secure, stable digital transmission and reception of very high quality audio with low latency.
Please note all prices are exclusive of VAT


+ 20% will be added to your order