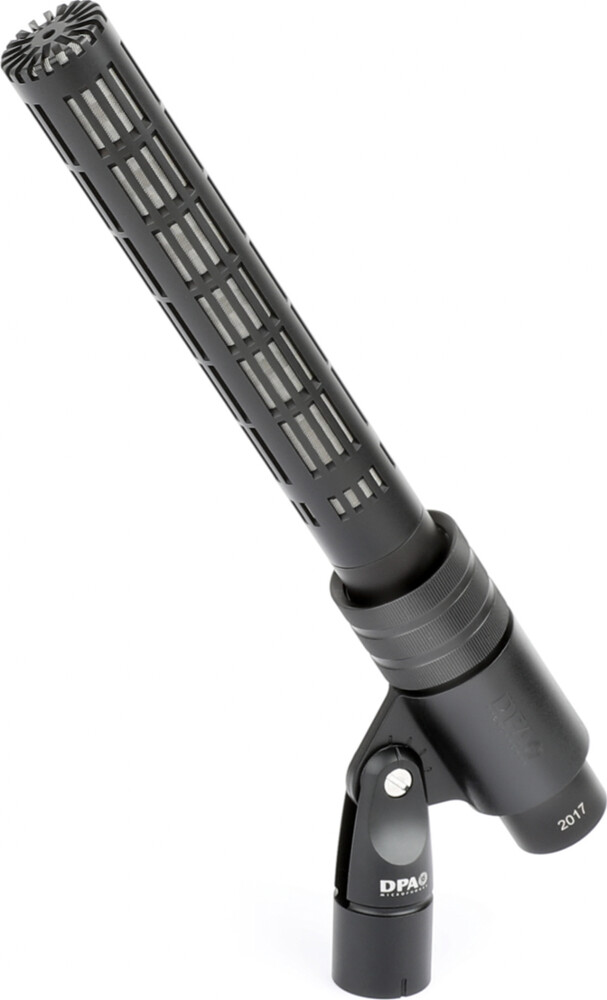 DPA 2017 Shotgun Microphone
FROM
£15.00
EX VAT

(Please note all prices are exclusive of VAT + 20% will be added to the final price)
Request a Quote
Features
Directional pattern:

Supercardioid at 1 kHz

Principle of operation:

Pressure gradient, with interference tube

Cartridge type:

Pre-polarized condenser

Frequency response:

20 Hz - 20 kHz, permanent third order high pass filter at 60 Hz

Effective frequency range, ±2 dB:

70 Hz to 18 kHz at 60 cm (23.6 in), with typ. 2 dB soft boost at 15 kHz

Sensitivity, nominal, ±2 dB at 1 kHz:

25 mV/Pa; -32 dB re. 1 V/Pa

quivalent noise level, A-weighted:

Typ. 13 dB(A) re. 20 μPa (max. 15 dB(A))

Dynamic range:

Typ. 130 dB

Max. SPL, THD 10%:

148 dB SPL peak

Current consumption:

1.8 mA

Microphone diameter:

19 mm (0.75 in)

Capsule diameter:

17 mm (0.67 in)

Microphone length:

184 mm (7.24 in)

Temperature range:

-40°C to 45°C (-40°F to 113°F)

Modularity:

No

Weight:

115 g (4.1 oz)
Description
Physical robustness: the technology used for the capsule and the structure protecting it, determines the resistance of the microphone against moisture, temperature changes and mechanical impact.

Non-modular design without moving mechanical parts, with the heavy-duty grid and the best slits pattern is very durable and can withstand mechanical impact without effect on microphone's functionality.

Designed to perform perfectly and without interruptions under persistent cold or heat as well as humid conditions.

Survives exposure to direct rain showers and dries up quickly to return to perfect operation faster than many other shotgun mics on the market.

Consistently and easily withstands and recovers from condensation phenomenon on par with the most stable shotgun mics on the market.
Please note all prices are exclusive of VAT


+ 20% will be added to your order