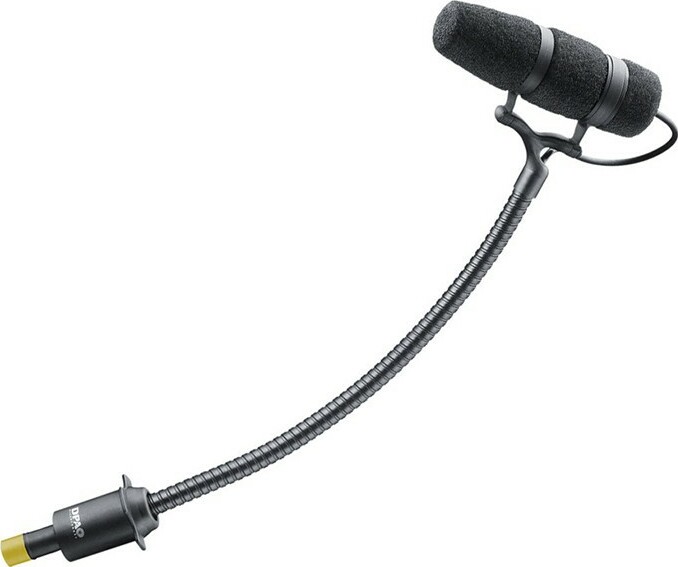 DPA 4099 CORE Instument Clip Microphone - Extreme SPL
FROM
£15.00
EX VAT

(Please note all prices are exclusive of VAT + 20% will be added to the final price)
Request a Quote
Features
Directional pattern Supercardioid

Principle of operation Pressure gradient

Cartridge type Pre-polarized condenser

Frequency range 20 Hz - 20 kHz

Frequency range, ± 2 dB, at 20 cm (7.9 in) 80 Hz - 15 kHz with 2 dB soft boost at 10-12 kHz

Sensitivity, nominal, ±3 dB at 1 kHz 6 mV/Pa; -44 dB re. 1 V/Pa

Equivalent noise level, A-weighted Typ. 23 dB(A) re. 20 μPa (max. 26 dB(A))

S/N ratio (A-weighted), re. 1 kHz at 1 Pa (94 dB SPL) Typ. 71 dB(A)

Total harmonic distortion (THD) < 1% up to 131 dB SPL peak

Dynamic range Typ. 108 dB

Max. SPL, peak before clipping 142 dB

Output impedance From MicroDot:

30 - 40 Ω. From DAD4099/DAD6001-BC: 100 Ω

Cable drive capability Up to 300 m (984 ft) with DAD4099 or DAD6001-BC XLR Adapter

Output balance principle Signal balanced with DAD4099 or DAD6001-BC XLR Adapter

Common mode rejection ratio (CMRR) > 60 dB from 50 Hz to 15 kHz with DAD4099 or DAD6001-BC XLR Adapter

Power supply (for full performance) Min. 5 V to max. 50 V through DPA adapter for wireless systems

Current consumption Typ. 1.5 mA (microphone). 3.5 mA with DAD4099 or DAD6001-BC XLR Adapter

Connector MicroDot

Color Black

Weight 27 g (0.95 oz)

Microphone diameter 5.4 mm (0.21 in)

Microphone length 45 mm (1.8 in)

Cable length 1.8 m (5.9 ft)

Cable diameter 1.6 mm (0.06 in) / 2.2 mm (0.09 in)

Polarity +V at MicroDot pin for positive sound pressure (and pin 2 on DAD4099 or DAD6001-BC XLR adapter)

Temperature range -40°C to 45°C (-40°F to 113°F)

Relative humidity (RH) Up to 90%

Gooseneck length 140 mm (5.5 in)
Description
Now with CORE by DPA technology
The d:vote™ is already the recognized standard for this type of microphone and the CORE version adds just another layer of sound quality that further distances this mic from its competitors. d:vote™ CORE 4099 brings more clarity and details to your music, across the entire dynamic range. Anyone looking for the very highest sound quality should choose CORE – every musician, live sound engineer and anyone else who takes pride in quality audio.

CORE by DPA is a powerful new technology at the heart of DPA miniature microphones. We've minimized distortion. From pianissimo to forte, you will experience increased clarity and openness. Learn more about CORE by DPA.

From the piano to guitar; strings to woodwinds; brass to percussion, the d:vote™ Series sounds equally impressive on them all. This one microphone model can beautifully reinforce an entire orchestra. You can move the mic to another instrument; just make sure you have the right type of clip to mount it correctly.The award-winning d:vote™ series gives you a much more natural sound than any clip-on microphone or pickup. This condenser microphone rejects unwanted noise and accurately captures the true voice of your acoustic instrument.
Please note all prices are exclusive of VAT


+ 20% will be added to your order