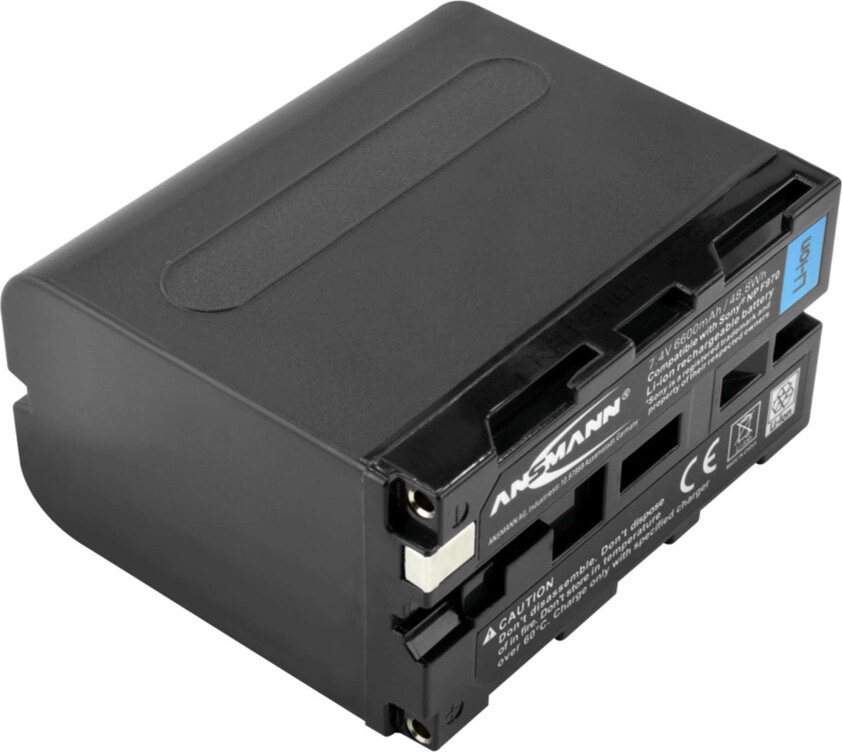 Ansmann DV Battery NP-F970 6600mAh / 48.8Wh
FROM
£2.50
EX VAT

(Please note all prices are exclusive of VAT + 20% will be added to the final price)
Request a Quote
Features
Compatible with:

CCD-TR / CCD-SC-Series, DCR-TR / DCR-VX/ E Series, DSC-CD / DSC-D-Series, DSR Series, GV Series, MVC Series, HDR Series as well as LED video lights NanGuang Luxpad 22 / 43, Yongnuo® YN140 / YN160 / YN160 II / YN160S / YN300 / YN600 / YN1410, TTV-126 TTV-160 / TTV-204

Replaces:

Sony NP-F970

Cell chemistry:

Lithium-Ion

Voltage:

7.4V

Battery capacity:

6600mAh

Nominal power:

48.8Wh

Dimensions:

70.8 × 38.4 × 60 mm

Weight:

0.3 kg
Description
This high-quality lithium-ion battery pack in convincing top quality is the perfect power source for your camera. Whether as a spare battery or as an inexpensive replacement battery for your original batteries – with the quality battery from ANSMANN you will certainly not miss a theme or a snapshot.

The high capacity and extra-long life of the ANSMANN batteries will allow you to enjoy energy-intensive technology for a long time. The integrated protection circuit provides comprehensive protection against overload, overvoltage and short-circuits. In addition to the excellent price-performance ratio, the battery also impresses with its fitting accuracy.

Of course, the battery pack can be charged with any conventional and with the original battery charger.
Please note all prices are exclusive of VAT


+ 20% will be added to your order