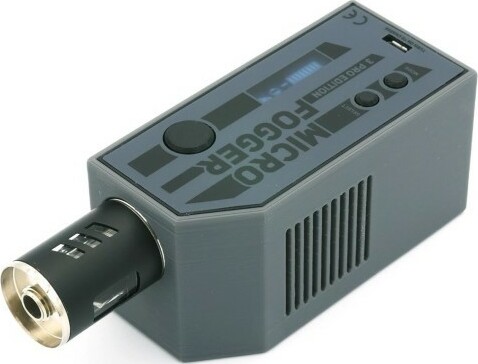 Vosentech MF-V3-P MicroFogger 3 Pro + Remote Control
FROM
£30.00
EX VAT

(Please note all prices are exclusive of VAT + 20% will be added to the final price)
Request a Quote
Features
Easy to navigate user interface thanks to onboard screen

Simple 3 button operation

25 min continuous use equivalent battery life

8 individually adjustable smoke speed and smoke density levels

Support for wired remote control using the control cable accessory

Integrated remote control receiver

Selectable remote control channels (support for 4 independently-operated MicroFoggers)

Programmable time delay mode (for delayed operation)

Programmable continuous operation (for hands-free use)

Programmable loop mode setting (for repeatable smoke bursts)

Numerous miscellaneous settings (RC lock, disable safety limits…)

Weight:

0.5 kg
Description
The MicroFogger 3 Pro is the world's most advanced mini smoke machine. Using their proprietary technology, it can produce a vast amount of non-toxic fog at the press of a button and without any heat-up time.

The MicroFogger 3 Pro features an integrated screen that clearly displays power levels and allows you to access dozens of setting such as autonomous operation – something which will be incredibly useful for our SFX customers.

The compact hand-held dimensions of the device are the same as in previous versions but we've managed to greatly improve the remote control range. Using the included keyfob, you'll now be able to control the MicroFogger even if there are several walls in the way. If you prefer to have wired control, you can interface the MicroFogger with any switch or relay using our control cable accessory.

Thanks to the extended battery life, you can easily use it for an entire day of filming without worrying about running out of power but when you do, simply charge it via the included USB cable.
Please note all prices are exclusive of VAT


+ 20% will be added to your order