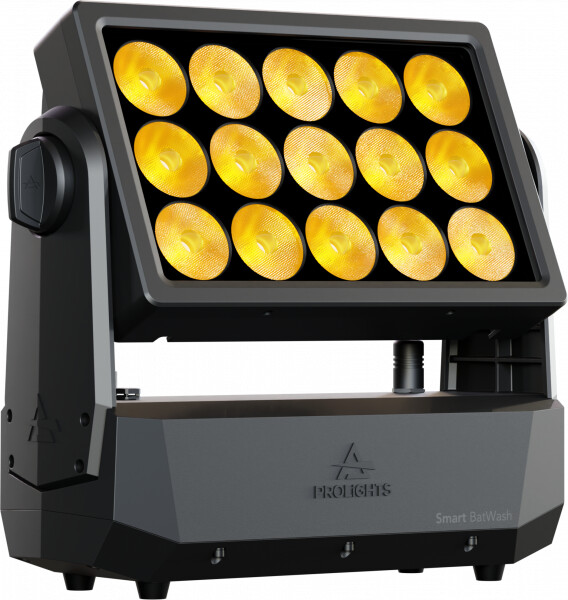 PROLiGHTS Smart BatWash - IP65 rated LED battery or wired Wash Light
FROM
£80.00
EX VAT

(Please note all prices are exclusive of VAT + 20% will be added to the final price)
Request a Quote
Features
15x20W RGB + Warm White LED source, powerful 6,282-lumen output high CRI (>93)

Range of holographic filters that modify the shape of the beam angle

Lux:

4'451lx @5 m full

CRI:

> 95 @3200K ; > 93 @5600K

Battery:

16,8V lithium

Estimated battery life:

Selectable 3h / 6h / 8h / 12h / 16h / 18h

Re-charge connection:

Directly from the mains power or magnetic fast-charge in case

Re-charge time:

5h/max

Battery status:

shown on display

IP rating:

65 for temporary outdoor application

Weight:

10 kg
Description
15x20W LED Wash Light, IP65 rated, with an RGB + Warm White LED source, wirelessly controlled with battery or wired with mains power

The Smart BatWash is a high-powered LED Wash light that can be operated wirelessly or wired.
This IP65 Wash Light has 15 x 20W RGB + Warm White LED emitters, and it's Spektra™ calibrated to guarantee consistency, high-quality white values (CRI >93), a dynamic array of true colours with smooth colour mixing, and a powerful 6,282-lumen output.
The Smart BatWash is very flexible - it can be used wirelessly with the built-in battery, using CRMX or W-DMX or, alternatively, wired with power and data cables, bypassing the battery and enabling higher brightness levels.
The beam angle can easily be adjustable through a magnetic beam shaper filter, allowing a broader coverage whilst keeping a high output. The Smart BatWash has all the software features of the Ecl range, sharing the same user settings and capabilities.
Please note all prices are exclusive of VAT


+ 20% will be added to your order