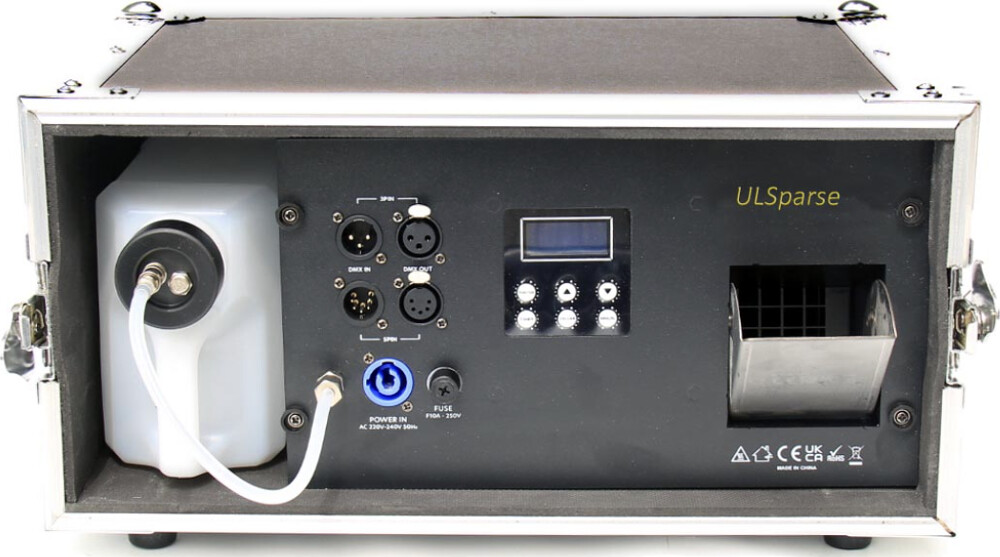 ULSparse Dmx Haze machine
FROM
£20.00
EX VAT

(Please note all prices are exclusive of VAT + 20% will be added to the final price)
Request a Quote
Features
Housed within a robust flight case 9mm ply and premium grade Corners

Dmx control over 2 channels

channel 1 = 0 to 100% pump control

channel 2 = fan speed

3 pin and 5pin dmx connectors

powercon mains input

adjustable output angle for the haze outlet

Centrifugal Fan, for reduced noise and greater control

Quick release all metal bottle connection for leak free operation regardless of the orientation of case

2.5 litre housing

1200w heat exchanger

120 sec warmup time

case size:

40cm x 44cm x 23cm

Weight:

17.5 kg
Description
Beautiful fine haze generated using very short duration pump firing technology

Air is mixed with the fluid to create the finest mist, without the noisy bursts so often seen with budget machines which resemble more of the smoke machine than a hazer!

The concept of an air pump and a fluid pump enables the smallest droplets of fluid to enter the heat exchanger. So many machines just cant deliver this level of control, and are often limited to only a basic volume control setting rather than the 4 advance timer and set values this machine can offer.
Please note all prices are exclusive of VAT


+ 20% will be added to your order