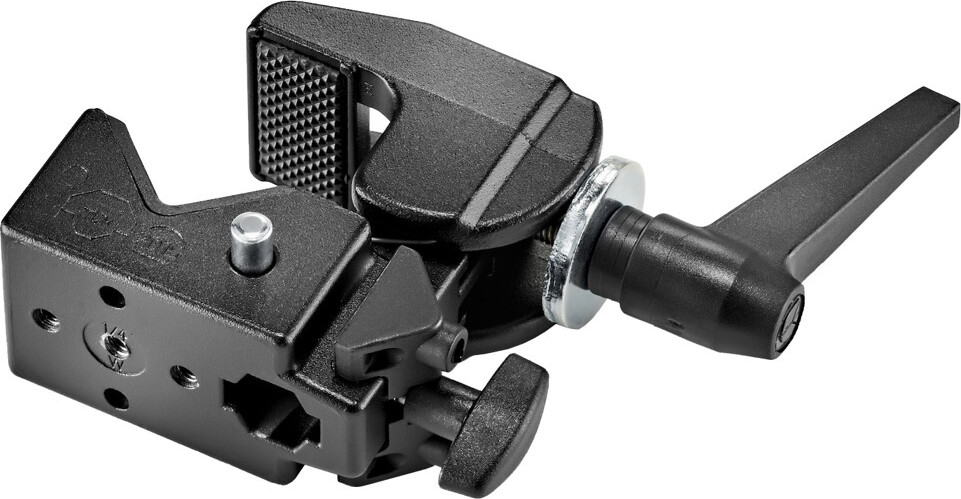 Manfrotto 035FTC Super Clamp
FROM
£1.00
EX VAT

(Please note all prices are exclusive of VAT + 20% will be added to the final price)
Request a Quote
Features
Securely mounted on any tube from 13 to 45mm

Equipped with ratchet handle

Universal 1/4'' thread attachment

Attachment is 5/8'' hexagonal socket

Ergonomic grip for total control

A durable photo clamp that can support up to 15kg

Comes with a Tüv safety certification stamp

Designed to keep everything securely locked in place

Slots in with a wide range of accessories and adapters

Weight:

0.4 kg
Description
An essential clamp that's easy to use, strong and reliable. The Super Clamp without Stud, Aluminium and Tüv safety certified clamp is ideal for professionals looking for a dependable and practical addition to their kit bag. Not only is it thoughtfully designed to make setting up simple, it's also strong enough for any challenge, even on the most demanding shoots.

This adaptable piece of kit can easily support up to 15kg, making it a truly heavy duty photo clamp. Despite this, it only weighs 410g thanks to its aluminium body, so it's super lightweight to pop into your bag at the end of the day. It's a light grip clamp, meaning you'll always be in full control of your movements, for fast, sure and accurate results. And it stretches from 13mms right through to a maximum 55mms, so you can pair it with a variety of accessories without any hassle.

To get started, you simply need to lock everything in place with a couple of quick motions. One of its standout features is its ability to keep things locked in place. In fact, this clamp has a Tüv safety certification because it's so easy to use and secure. And it comes complete with a 16mm hexagonal attachment, plus a standard M6 x 1 thread, giving you absolutely everything you need in one bag. That way you'll never get caught out when it comes to getting the job done in a jiffy.
Please note all prices are exclusive of VAT


+ 20% will be added to your order